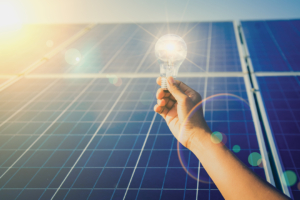 At Aldelano, we offer several different options for our cold storage solutions. These options include The Aldelano Solar ColdBox™, The Aldelano Solar Watermaker™, The Aldelano Solar Chiller™, and the Aldelano Solar IceMaker™. Each of these products utilize the power of the sun to provide an off-grid solution for you, your organization, or for someone in need. Learn more about our products below.
This solar powered mini warehouse provides off-grid refrigeration along with freezing capacity. It can be offered with the Solar Watermaker and the Solar IceMaker to provide fresh, clean drinking water and ice. This product also comes in different size options including a 40 foot Solar ColdBox, a 20 foot Solar ColdBox, and a 40 foot side-by-side Solar Coldbox.
Powered by the sun, this cold storage unit has the capacity to refrigerate from 45 degrees to 70 degrees Fahrenheit (7.2 to 21.1 degrees Celsius). It is also offered in different size options including an 8ft x 12ft unit, an 8ft x 20ft unit, and an 8ft x 40ft unit.
This cold storage product uses advanced technology to create water from air. It utilizes the air molecules along with the power of the sun to create safe and clean drinking water. This product can produce as little as 30 gallons of water per day to up to 1,000 gallons of water per day. It all depends on the size unit you would like to purchase.
The Solar IceMaker must be combined with the Solar Watermaker. Once these two products are combined, 120 to 2300 lbs. of ice can be produced daily.
Why Choose Aldelano?
At Aldelano, we are dedicated to providing a product that is reliable and life-sustaining. We not only want to help organizations and companies, we also want to help provide relief for natural disasters, provide military aid, and help those who don't have reliable food or safe drinking water. Our goal is to help empower others to solve problems and offer an innovative way to solve world hunger.
Learn More About Our Cold Storage Solutions
If you have additional questions about our cold storage solutions, contact us at 1-855-765-7269 today. All of our cold storage solutions are solar powered and work independently of any power grid. Our advanced technology can not only help your solve your business solutions, it can also help to save lives across the globe. Call an Aldelano sales representative today to get started.