How our Life-Sustaining Solutions Work
Our off-grid, industrial-grade solar powered units provide a life-sustaining solution that can be delivered anywhere in the world. Whether here in the United States or across the sea, our solar products can help. Unlike other solar power companies, we provide after-sale support. Aldelano tech support ensures any person or business using Aldelano Solar Solutions products thrive. Our solar products come ready-to-use and require little to no maintenance.
Which Cold Storage Solution Should I Choose?
Before making the decision to invest in one of our solar solutions, you must consider your needs along with the environment in which the technology will be used.
The Aldelano Solar ColdBox: This product is an off-grid mini warehouse that provides refrigeration with freezing capacity as well as safe, clean drinking water.
The Aldelano Solar Chiller: This cold storage unit is a solar powered mini warehouse that ranges from 45 degrees to 70 degrees Fahrenheit (7.2 to 21.1 degrees Celsius).
The Aldelano Solar Watermaker: Our Solar Watermaker uses advanced technology to create water from molecules in the air. It can create up to 1,000 gallons (3,785 liters) per day.
The Aldelano Solar Icemaker: When used with the Solar Watermaker, this product can create 120 to 2300 lbs of ice each day!
The Aldelano Solar PowerPak: is a solar power generator that provides auxiliary power to anyone seeking durable, alternative power options off the grid.
Each of these cold storage solutions can help you, your business, or someone in need. If you are looking for an all-in-one product, The Aldelano Solar ColdBox can conveniently provide all of these features. If you have additional questions about our products, please feel free to contact our staff at Aldelano today.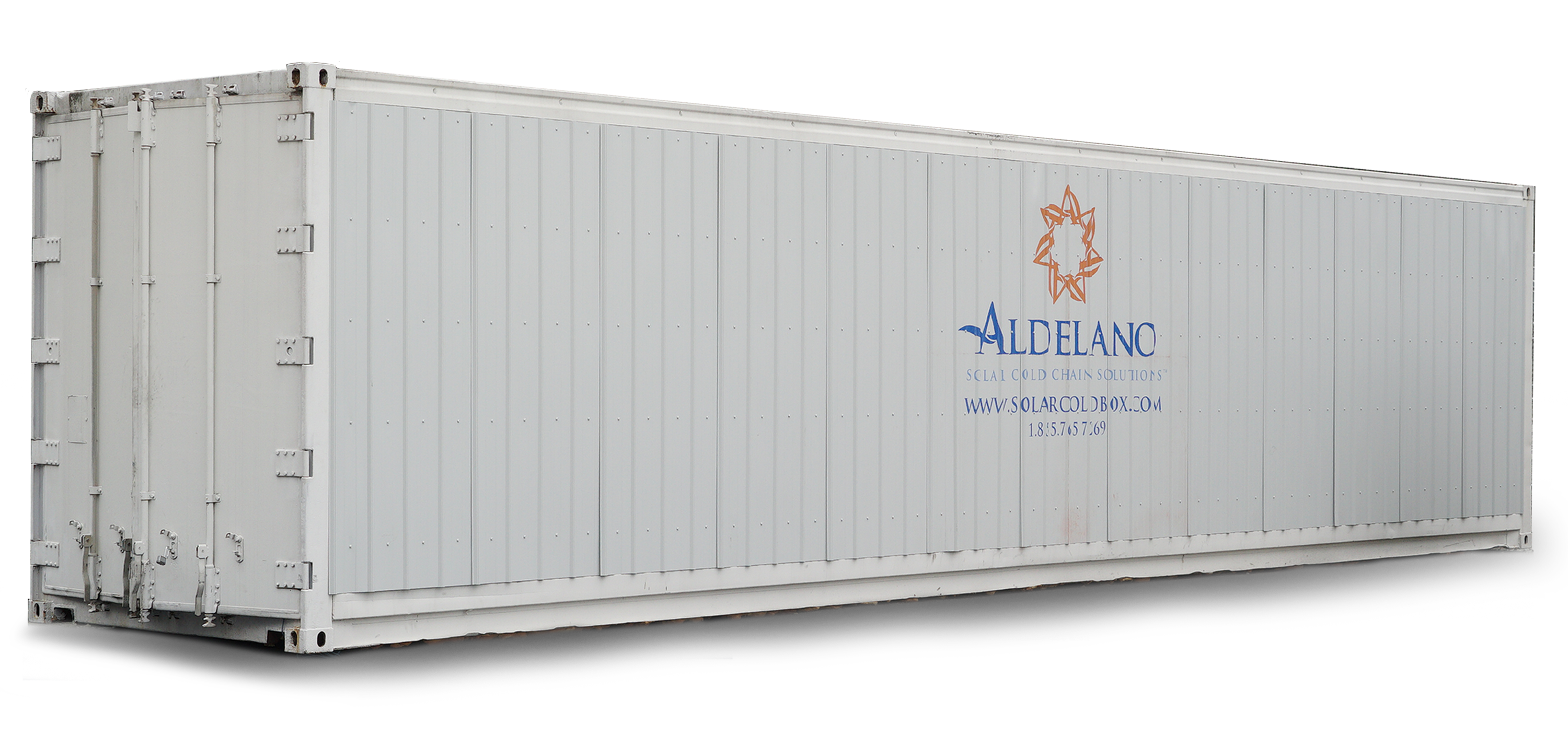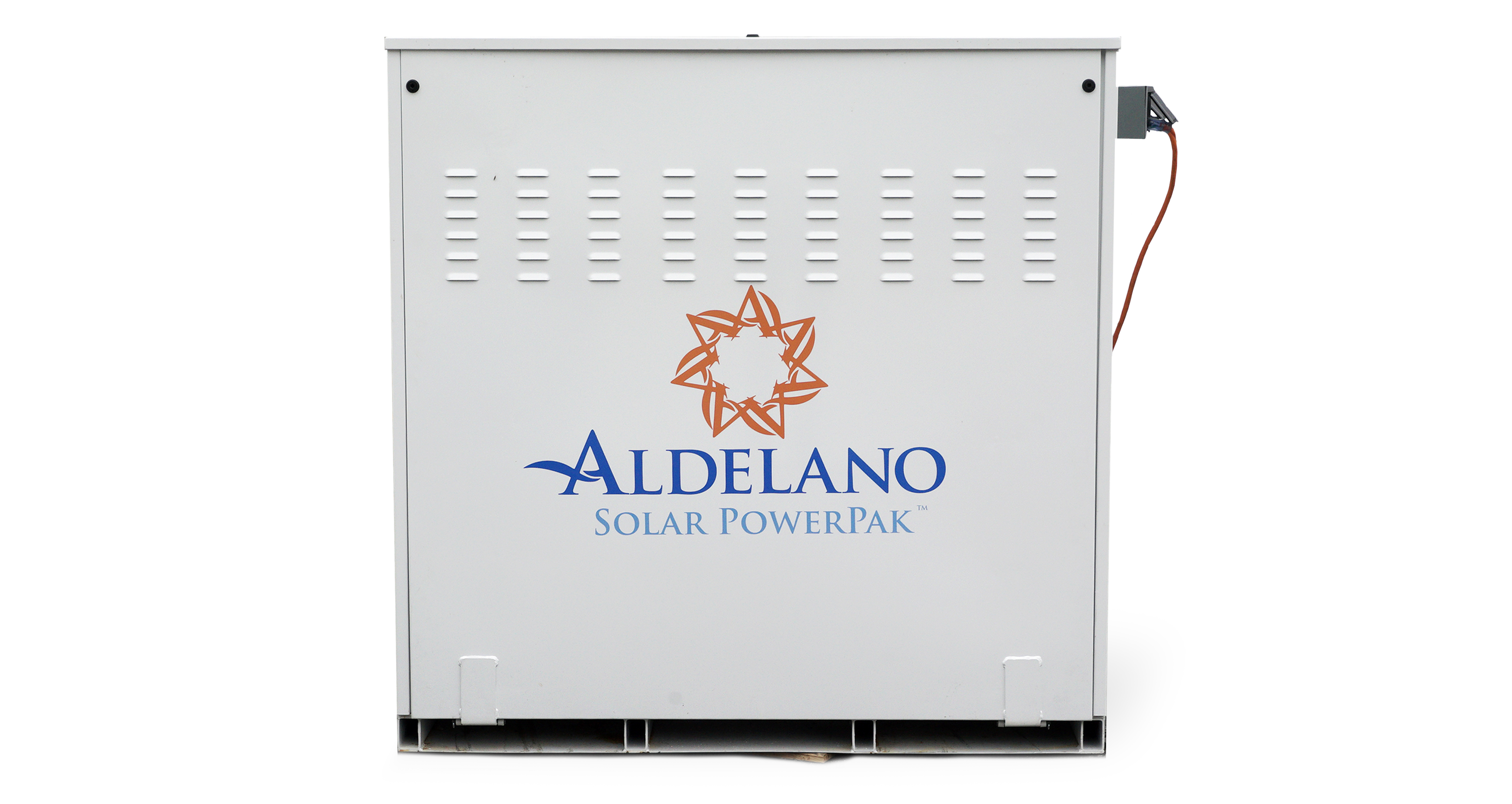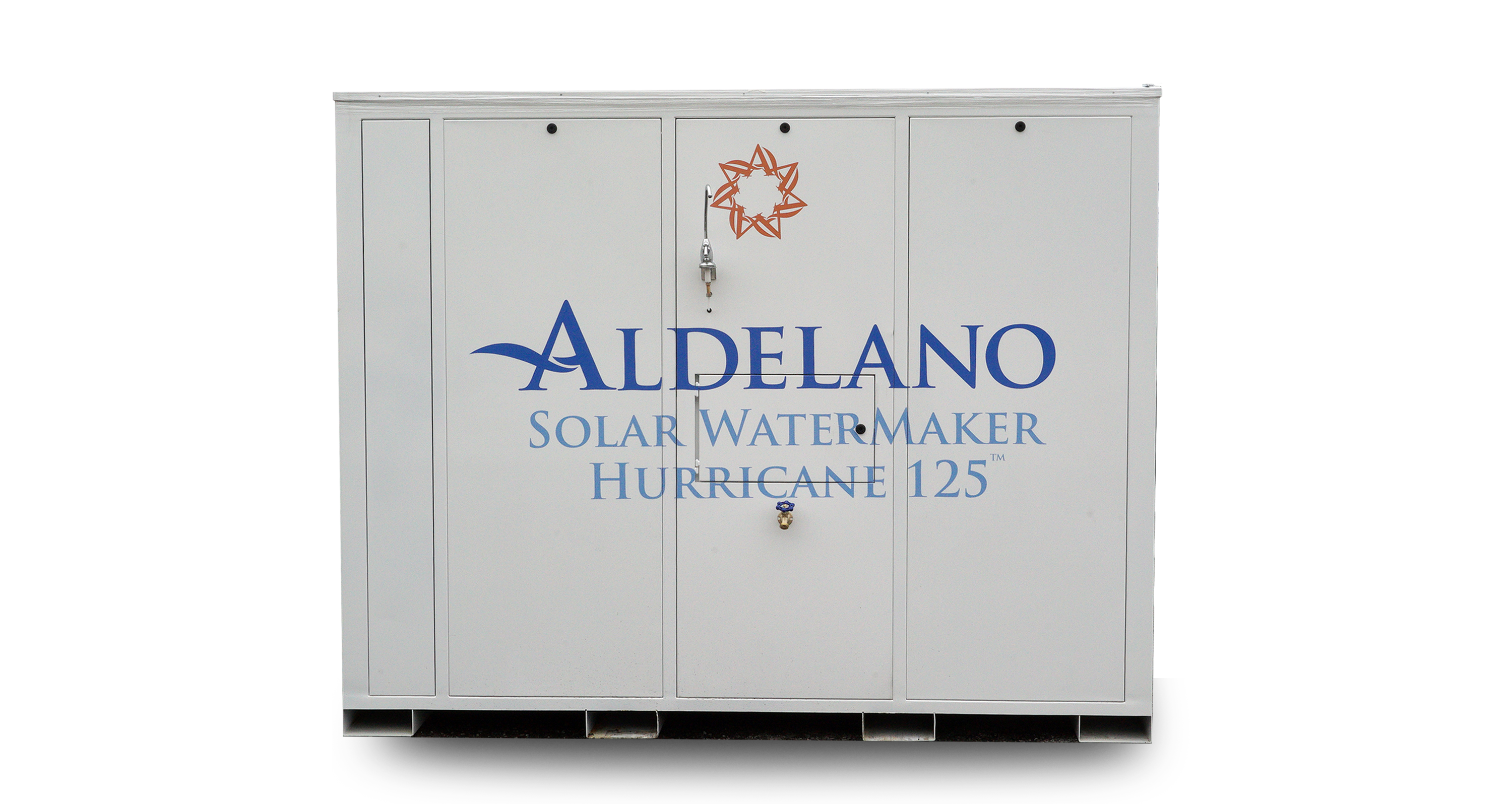 Cold Storage Technology
Solar Power:
Using our decades of experience in packaging and warehouse management combined with solar technology, we have been able to create a product that is off-grid and utilizes the sun for energy. All of our products use the sun directly for power during the day. Once it is night time, additional energy from the sun is stored into a battery feed. If the battery runs out, there is a backup generator that automatically turns on.
Safe, Clean Drinking Water
Our Solar WaterMaker creates water from thin air – literally. This product is able to harness the humidity from molecules in the air. When combining these molecules with our solar power technology, the result is safe, clean drinking water.
The Process
The process is easy. Once you have decided on the product that you need, contact us and we will get you started. We will then ship our cold storage solution to your desired location, fully assembled. The only thing you need to set up is the solar panels. Once our cold storage solutions arrive at the desired location, you will want the unit to be placed due south for locations above the equator, due north for locations below the equator. Other than those few easy steps, there is just simple maintenance required to keep the cold storage unit clean.
Contact Aldelano to Get Started
Contact a sales representative at Aldelano for more information about our products or the delivery and setup process. We can be reached at 1-855-765-7269 or you can fill out our easy-to-use contact form here. We look forward to hearing from you!